Hiidenportti National Park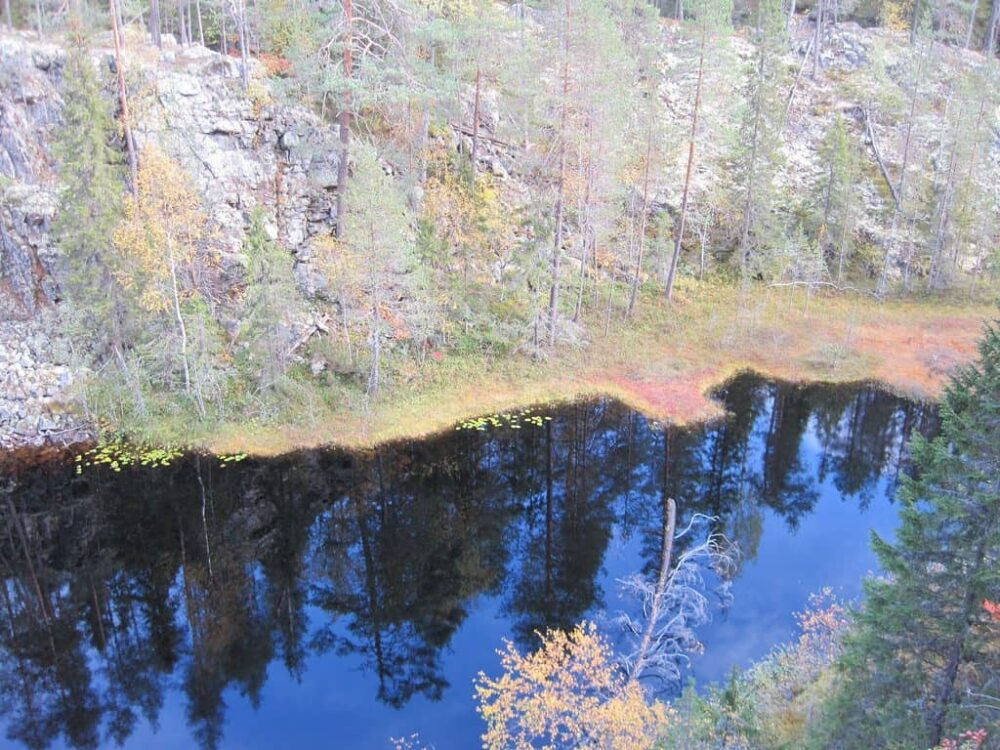 Hiidenportti National Park
Level: (* * *) Three bears
Hiidenportti National Park is situated between two water systems. The Park was established in 1982 to preserve the regional wilderness.
The main attraction of the park is the canyon-like ravine, where the Porttijoki river runs from north-west to south-east. The Park is named after the Hiidenportti ravine at the north-western corner of the area. Hiidenportti's steep, 20 metres high cliffs are worth seeing. There's plenty to see: primaeval forest with signs of old forest fires, untouched spruce forests, streams surrounded by lush vegetation, rocky ground, caves and string bogs. You can find 200-year-old spruces, and the oldest pines are over 400 years old. Remote poor fens and flark fens are a bounty to fit hikers after cloudberries and cranberries.
In an old myth, a demon called Hiisi herded his livestock – bears, volves, volverines and lynxes – in peace on the top of Vuokatti, until Christianity arrived to Sotkamo. Hiisi was enraged by the sound of the church bells, and hurled two large rocks towards the church, but missed. The continued tolling made Hiisi so angry, that eventually he gathered his livestock and retreated to the forests of Hiidenportti (Hiisi's gate). The area is still out of reach of the sound of church bells, from all directions: Sotkamo, Kuhmo, Valtimo and Nurmes.
Hiisi's protected livestock is still living in the Park area. They are not easily seen, though. One exception is the beaver, felling trees and building dams in the Portinjoki water system. The majority of birds in the National Park are those indigenous to the east and north.
The Park has a vast network of trails. There are five lean-tos and a campfire site. Most visitors arrive to the park through the Palolampi parking area in north-west. It is the shortest route to the main attractions of the Park, Hiidenportti and the deserted Kovasinvaara croft.
Käärmesärkkä on the opposite side of the Park is another popular starting point. Urpovaara in north-east also has a parking area and an information board.
The Park has two round-trip trails, Hiidenkierros and Kitulankierros. Hiidenkierros is the most popular, showing the main sights of the Park. Combined with a break at the Porttilampi lean-to, the hike is 5 kilometres long. Without a detour to Porttilampi, you can see all the main sights next to the 3 km round-trip trail. The Kitulankierros trail is 10.5 km long. It shares the same trail with Hiidenkierros all the way to Portinlampi, and goes on to the Kitulanlampi lean-to and then meanders back to the Hiidenkierros trail.
The Park does not maintain skiing trails in the winter. The area is perfect for touring skis and snowshoes.
Hiidenportti in a Nutshell
Sotkamo, Kainuu
Area: 45km2
Founded in 1982
Further Info:
Book by Jouni Laaksonen: Retkeilijän kansallispuistot, Otava 2011
Driving instructions:
The Sotkamo – Kuhmo road (76) has signs to the National Park. The signs lead you to the Palolampi parking area.
Hiidenportti National Park
Sotkamo
+358 40 8256060