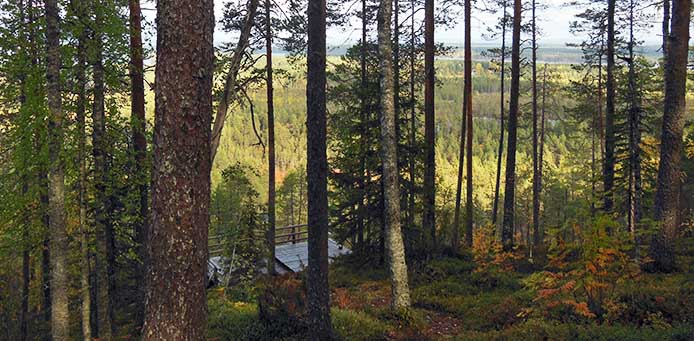 Jauhovaara
Level: (*) one bear
Recreational Forest of Jauhovaara is in south-western Kuhmo. Known as a vantage point, the peak of Jauhovaara is 253.2 metres above the sea level. The north side, especally, is characterised by steep cliffs and magnificent views.
Dominated by spruce, the area is an exception to rugged pine forests and mires otherwise typical of the region. Other distinctive features include patches of foreign coniferous tree species, planted for test purposes in the 1930's and 1940's.
Jauhovaara has had inhabitants since the 1900th century. Today, the former forest guard's house is deserted and rented by Villi Pohjola.
The hiking trail travelling around the Jauhovaara area was established in 1977, and the trail has since become one of the best known short hiking trails in Kuhmo. Marked in red, the easy 1.6 km stretch on the top of Jauhovaara has douglas fir trees, sembra pines, Siberian fir trees and Engelmann spruce. By the trail, you can almost certainly find some bilberries, because the top of the hill rarely gets frostbitten. On the north side of the peak there's a platform for enjoying the view of forests and lakes.
The longer trail, marked in blue, is one of the oldest nature trails in Kainuu. Going up and down the hill, it is more demanding but also more rewarding than the top trail. By the trail you can find 17 small info boards introducing the planted tree species and other natural features. The lower trail meets the top trail at the vantage point platform.
Jauhovaara in a Nutshell
Kuhmo, Kainuu
Area: 0.2km2
Founded in 1959
Further Info:
Jouni Laaksonen (ed.): Kainuun luontokohdeopas, Edita 2005.
Driving instructions:
From Kuhmo, take the Kuhmo – Sotkamo road (76) and drive for 26km, then take a left turn to Vepsäntie. Continue for 10km and turn right to the Välivaara road. Follow the signs to Jauhovaara on the Välivaara road, continue for 1.7km and turn right to the road leading to Jauhovaara, continue for 0.8km and you have reached the parking area. The parking area is just before the rental cabin. The parking space nearest to the cabin is only for the tenants. The parking area is the starting point for the hiking trail.
Photo: Eeva Pulkkinen