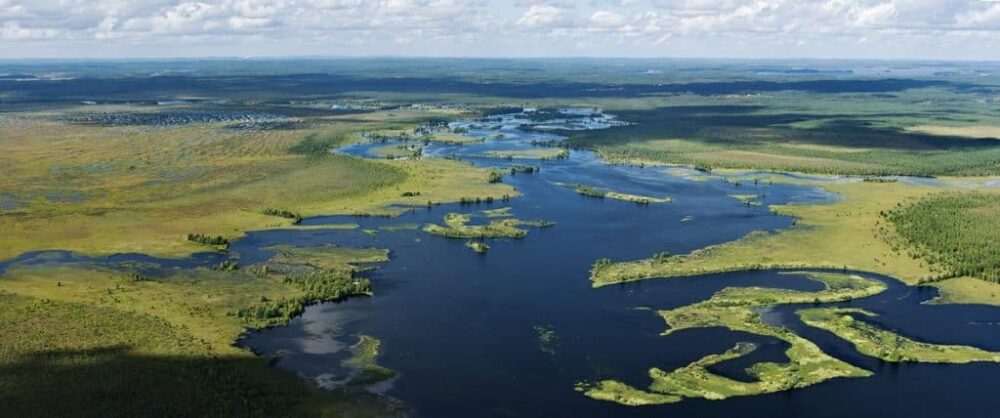 Koitajoki Nature Reserve
Level: (* *) two bears
Koitajoki Nature reserve, east of Hattuvaara village nearby the border zone, is an excellent hiking site for wilderness lovers. The Koitajoki River runs calmly through the region with small rapids. You can read about the river on this site under canoeing routes.
The Koitajoki area consists of Rosmesuo – Hanhisuo Mire Reserve and the beautiful Koivusuo Strict Nature Reserve, and the area between them, where the Koitajoki river meanders through. The Koitajoki Nature Reserve, along with the Patvinsuo National Park and the Petkeljärvi National Park, is one of the areas that make up the North Karelia Biosphere Reserve, established by UNESCO in 1992.
The area has a diverse history. It has been inhabited by forest wardens and their families, and lumbermen in huts around the logging sites. Three of these logging huts now stand empty in the area. There are also many lean-tos and campfire sites.
In addition to hiking trail Tapion Taival, Koivusuo also has a 17 km round trip path, Pirhun kierto. The path crosses the Koitajoki River twice. The rafts at the crossing sites are operable from 1st June to 30th September .
Koitajoki in a Nutshell
Ilomantsi, North Karelia
Area: 74 km2
Further Info:
Driving Instructions:
If your destination is at the northern part of the area, take a turn from Via Karelia (522) east to the Hoikantie road, on the northern side of Hattuvaara. There's a parking area some 5.5 km from the junction. This is the starting point of a hiking trail to Koivusuo. If you continue the Hoikantie road another 1.5 km to a right hand turn, take the turn and keep driving for 1.5 km, you get to Pirtupolku parking area, next to the border zone. The Pirtupolku trail is part of the round trip path, Pirhun kierros.
The middle part, Polvikoski, can be reached by taking the Polvikoskentie road at Hattuvaara. Drive for 4 km, take a left turn and continue driving for 5.5 km to Polvikoski.
To reach the southern part of the area, take a turn from Via Karelia to the Niemijärventie road, on the southern side of Hattuvaara. Continue for 15 km to the Lakonkangas parking area.
Koli Nature Centre Ukko
Tel. 0206 39 5654
ukko(at)metsa.fi