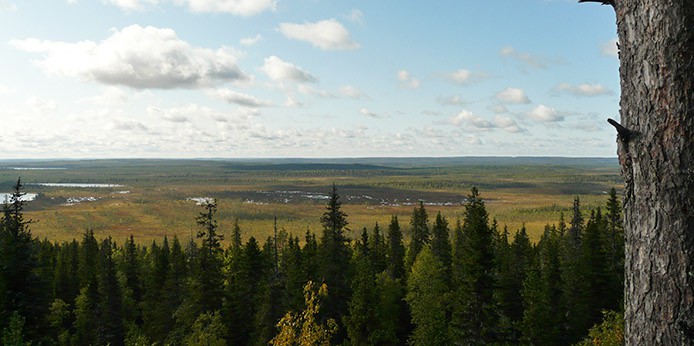 Näränkä Natural Forests
Level: (*) one bear
Näränkä Nature Forest in Kuusamo has pristine nature that is unique in Finland and the entire western Europe.
In addition to forests, the small bodies of water and swamps in the area are in their natural state, providing viable living conditions for many demanding species. The reserve area has four forest areas: Virmajoki, Romevaara, Pajupuro and Näränkä.
On a day-trip to Näränkä (round-trip trail), you can explore the subtle nature and get a glimpse of natural economy practiced in the past a restored farm in Näränkävaara.
The Area in a Nutshell
Kuusamo, North Ostrobothnia
Area: 137km2
Founded in 1996
Further info:
Driving Instructions:
Näränkä: Turn from road 8421 to east at Hyöteikönsuo junction. Drive for 11km to reach the parking area, where you can start the Näränkä day-trip trail. The distance to the wilderness farm is 4km. From the Suojärvi parking area, the distance to the wilderness farm is one kilometre. You can find Suojärvi by turning from road 8421 to the Korpivaarantie road and following the signs to Näränkä for 14km.
Pajupuronsuo area: The nearest parking area is on main road 5, 33km south of Kuusamo, next to the Predator Centre in Kero. It's a 3 km hike from the parking area.
The Virmajoki area is at the easternmost corner of Kuusamo. You can find it by driving from Kuusamo via the Lämsänkylä road 866 to Tammela and Mattila, or via Pikkarainen to Latvajärvi.
Romevaara is close to Julman Ölkky's ravine lake and the Ölkyn ähkäisy trail. The closest parking area is at the south end of Julma Ölkky.
Photo: Hannele Kyrö
Contact:
Oulanka Visitor Centre
Liikasenvaarantie 132
FI-93900 Kuusamo
Tel. +358 206 39 68 50
E-Mail: oulanka(at)metsa.fi
Customer Service Karhuntassu
Torangintaival 2
FI-93600 Kuusamo
Tel. +358 206 39 68 04, Mobile +358 40 8 60 83 65
E-Mail: karhuntassu(at)metsa.fi
Oulanka Visitor Centre
Liikasenvaarantie 132
FI-93900 Kuusamo
+358 206 39 68 50