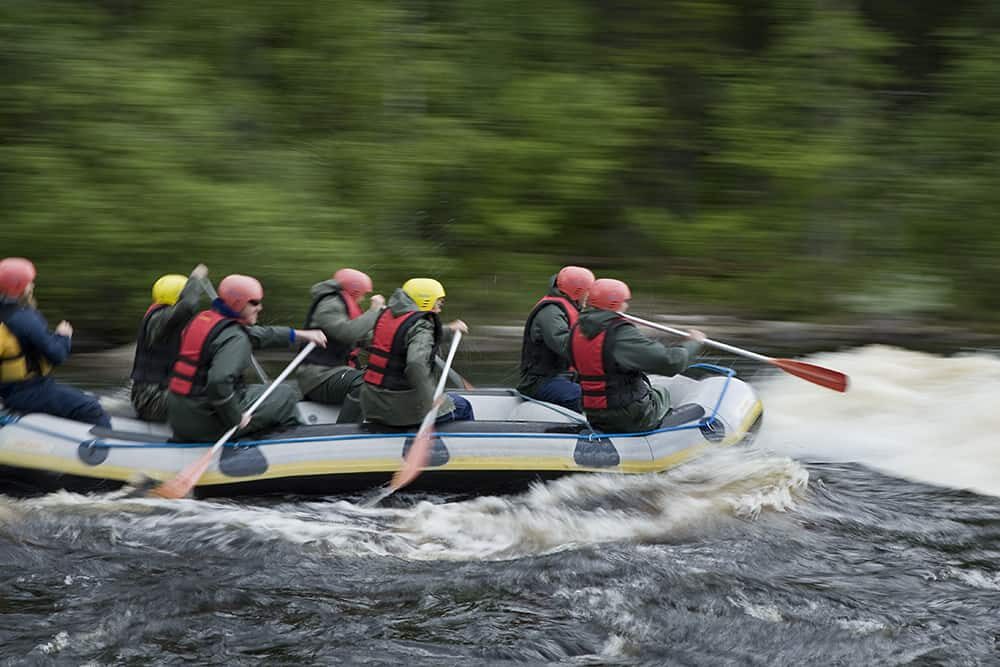 Ruunaa Hiking Area
Level: (* *) two bears
Ruunaa is best known for its rapids. The rapids on the Lieksanjoki river take you from Matkalahti to Ruunaa Nature Centre in Naarajoki over some 30 km. White-water rafting is commercially available on a rubber raft or a wooden boat. Tens of thousands of people visit the area every year.
If you feel adventurous, you can canoe your way down the rapids on your own. On this site's section on canoeing routes, you can find an introduction to the routes on the Lieksanjoki river.
The famous Ruunaankoski rapids can be explored also on foot – the area has 50 km of well marked trails and wooden paths. Lean-tos and campfire sites are readily available by the trails.
The longest one of the marked round trip trails is Koskikierros, 31 km. It travels through both banks of the rapids. The trail crosses the water on a suspension bridge at Haapavitja in the north and at Siikakoski in the south. All the best rapids can be seen on the Koskikierros trail.
There are plenty of lean-tos and campfire sites, and there's a bird watching tower on the eastern shore of lake Neitijärvi. In its vicinity you can find three cabins, rented by Villi Pohjola.
Shorter round trip trails (3 and 5 km) can be found near Siikakoski and Murrookoski. Neitikoski has a nature trail, "Närelenkki" (2 km)
A hiking route "Karhunpolku" travels through the area. Its start and end points are in the Patvinsuo National Park in the south and next to Via Karelia at Teljo, a small parking area, in the north.
There are 30 km of ready-made skiing trails in winter.
The Ruunaa Outdoor Centre in Neitikoski offers many services for travellers. You can book a sauna bath and replenish your water bottles. The parking area in Neitikoski is a starting point of a 500 m long, accessible wooden path to the shoreline to allow people with disabilities enjoy fishing and the Neitikoski scenery.
Ruunaa Visitor Centre is in Naarajoki, 13 km from Pankakoski before the camping area. It is open from April to October.
Patvinsuo in a Nutshell
Lieksa and Ilomantsi, North Karelia
Area: 105 km2
Founded in 1982
Further info:
Suomen retkeilyopas, Edita 2006
Ruunaa Visitor Centre, tel. +358 205 64 5757
Ruunaa Outdoor Centre +358 (13) 533 170
Ruunaa Hiking Centre
Tel. 040 579 5684, 0400 154524
info(at)ruunaa.fi
040 579 5684