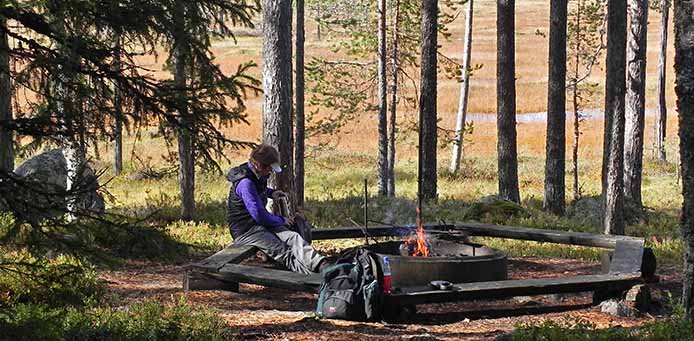 Teerisuo – Lososuo
Level: (* *) two bears
Teerisuo – Lososuo Mire Reserve, south-west from Kuhmo is located by the road 5284 from Kuhmo to Valtimo. The area is a prime example of wilderness. The forest islets and mires make up a balanced mix.
Pieni Teerisuo, Isosuo, Kuitisuo and Lososuo comprise an over 8 km long stretch of open, undrained bog. The surrounding forests have an untouched profile, in their natural state. Where the mires meet the trees, there are some majestic dead standing trees. The Rajapuro stream, next to the elongated shape of steep Rajavaara hill, and the Kelopuro stream, running between rugged cliffs, are flowing away from the mires and ponds towards the Vuoksi water system and the Finnish Gulf. From the northern area, the waters flow towards the Oulujoki water system and the Bay of Bothnia.
The forests in the area are dominated by spruces coverded in beard moss, large aspens, willows and birch. Fallen trees are decomposing on the spot, forming perfects habitats for rare species living off of dead trees, such as polypores and beetles. There are many bird species typical of mires and old forests, and other inhabitants include Finnish forest reindeer and beaver.
By road 5284, on the north-western side, there's a parking area – a starting point to the 11,5 km Teerisuo round-trip trail, with duckboards through the mires. The easy trail runs on even grounds. There's a lean-to at Teerisuo and a campfire site at Multisärkkä. The trail takes you through mires and islets of old forests in their natural state. The UKK hiking trail travels through the area, partly interconnecting with the round-trip trail. If you take the trail leading north-west from the round-trip trail, you'll find the Kiurulampi campfire site.
You can also hike off the trail. For bird lovers, spring and early summer are rewarding times for a visit. In the autumn, cloudberries are ripening and you can enjoy the deep autumn colours of green, red and yellow in the mires. In winter, the vast stretches of snow, beaten by the winds, are perfect for touring skis.
Teerisuo-Lososuo in a Nutshell
Kuhmo, Kainuu
Area: 21km2
Founded in 1988
Further Info:
www.luontoon.fi/teerisuo-lososuo
Driving Instructions:
By the Kuhmo – Valtimo road (5284), near to the border between Sotkamo and Kuhmo, there's a parking area with info signs to the hiking route.
Photo: Eeva Pulkkinen
Teerisuo-Lososuo Mire Reserve
Kuhmo, Kainuu