Nature Sites on Via Karelia
Via Karelia is a feast for nature lovers. En route you can find fine cultural sights, untouched wilderness, short and longer hiking routes and nature trails, water routes and lake sceneries, and observation towers for birdwatching and enjoying the view from above.
Via Karelia runs some 750km from the Gulf of Finland to southern parts of Lapland, representing a cross-section of different natural and cultural characteristics.
North of Lappeenranta, Via Karelia runs along the route of the watershed between Finland and Russia, and the land becomes less inhabited and more rugged, the upper north you travel.
The change of seasons, too, has it's own rhythm. The winter lasts one or two months longer in the north, stealing time from the summer. Days are of different lengths as well. In the Midsummer, north of the Arctic Circle in Salla, the sun shines through the night, and fails to show at all around Christmas time, even though there's a lighter period of five hours daily.
Even though Midsummer Night is still light in the south, sun goes down for about five hours. On Christmas Day, the sun barely comes above the horizon for about the same time.
You have chosen a route that has plenty to offer. Take your time and stop for a while, and take in the beauty of nature manifesting itself in so many ways. Open your heart to the beauty of nature.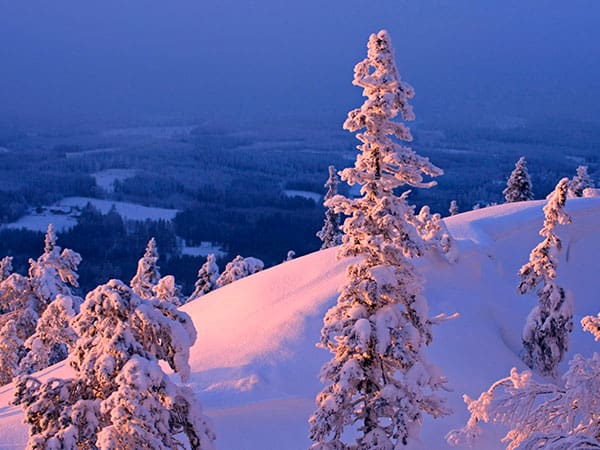 An open tower with a single platform is by a shallow bay, surrounded by lakeside meadows and fields. In springtime, the place is teeming with mallards and pochards. Driving instructions:…
Read more