Explore the Wild in Nature Reserves and Recreation Areas
Nature Reserves have been established to maintain representative areas, large enough to support wildlife, of all current nature types in Finland. Nearly all Nature Reserves are also meant for public visiting. Near the Road of Poem and Border, the Ulvinsalo Strict Nature Reserve is only for research purposes.
The Road of Poem and Border runs mostly in farmland and cultural landscape, and further north in commercial forests, where parts are cut down and there are forests of different ages. If you want to experience age-old eastern Finnish nature, there will be many opportunities, if only you have time. There are forty different Reserve areas on the route.
You can take any of these on your list, and you'll be amazed how many faces the eastern Finnish nature has. Obviously, all these sites cannot be seen during a single trip, not even an entire summer. The nature in Eastern Finland is far too rich and multi-faceted.
The seven National Parks along Via Karelia have perhaps the greatest sights, but not a single one of the Reserves has been established for nothing. Each and every site has unique characteristics, worth knowing beforehand. You may find just the perfect for you. In National Parks, the trails may be a bit crowded at times, but in some Reserve areas you will hardly meet anybody. However, you're more likely to bump into another human than into one of Finnish apex predators. They all avoid humans, making them a bad excuse for staying away.
Many Nature Reserves allow over-night stays. For casual campers, a place for a tent, a lean-to, a Lapp hut or an open wilderness hut will be ok. If you need more services, you can opt for a nearby camping site or rented accommodation.
In addition to National Parks, the list includes other Reserves, hiking areas and recreation areas. The reserve status of the area is not important. More important is to find an interesting destination.
We have assigned the areas to different levels. The most versatile sites get three bears. Hiking areas that also have commercial forests, get two bears. Two bear areas can have many attractions, too. If an area has been assigned only one bear, it doesn't mean the area is not worth visiting. There may be only one main attraction, but it can be top notch. Anther reason for a one bear status is that there may be fewer or no services, and camping there means you need to know what you're doing.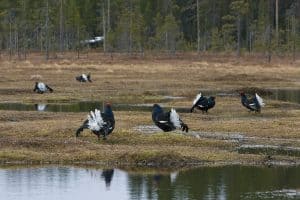 Level (* * ) two bears Hossa is one of the state's hiking areas. It's a great destination for hiking, skiing, canoeing and fishing. The forests are mainly easy and…
Read more