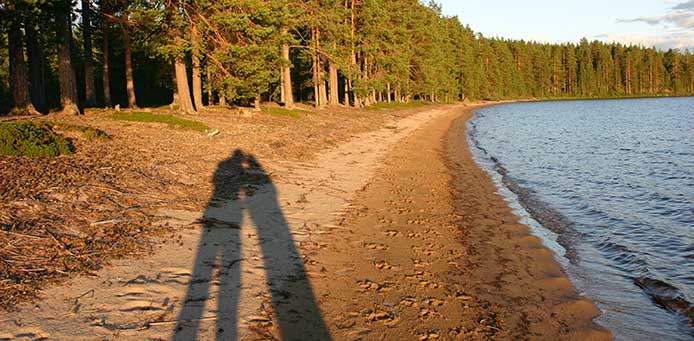 Lentua Nature Reserve
Level: (* *) two bears
Lake Lentua is the largest unregulated lake in the basin of the Oulujoki river, and the most valuable example of lakeland nature in Kainuu. The shoreline is mostly unbuilt, and there's a strong sense of wilderness. Many of Lentua's waters and islands, and parts of the shoreline, are Natura areas.
The southern part of Lentua features open waters, whereas in the north, the lake is charcterised by many islands and narrow inlets in between. The shoreline is combination of vast sandy beaches, small sandy coves, steep cliffs and flat bedrock.
The forests were eagerly commercialised in the era of tar-burning. Therefore, these forests are only just reaching the age of proper sawtimber trees. Lentua has a good network of resting spots. Camping and campfires are allowed only on marked sites.
Apart from tar-burning and recreation, Lentua has its cultural historical roots. Finnish master painter of national romanticism, Akseli Gallen-Kallela, stayed in a house in Lapinsalmi, northern shore of Lentua, on his honeymoon. In 1891, he painted his first Kalevala-themed work, the Aino triptych. Apparently, he was inspired by Lake Lentua. Author Veikko Huovinen's great thinker, Konsta Pylkkänen, was also stirred by the vast open Lake Lentua.
The main info site is the Lentua Nature Information Hut at the south end of the lake, near Lentuankoski rapids. There's a concrete boat ramp by the lake. The hut is also a strting point of the Lentua Nature Trail, introducing visitors to restoration of forests and mires.
Lentua can be seen at its best on the waters, but if you travel by car, the Lentuankoski rapids and the Nature Trail are well worth visiting. The Niva village on the west side of Via Karelia offers another opportunity to experience Lentua from dry land. The village association maintains a network of three hiking trails. The trails run past some impressive rapids.
At the start of Lentuankoskentie road, you can find a parking area and an info sign for the Lauttavaara Nature Study Forest. The area and its trails give student groups and other visitors an opportunity to study nature, explore and even collect some plant samples. The wet parts are equipped with duckboards. On the trailside, you can find a deserted house "Kivelä" and its flower meadows and old pines, lichen-covered cliffs, a lean-to, old mixed forests and a stream. A perfect destination for families with children.
Lentua in a Nutshell
Kuhmo, Kainuu
Area: 51km2
Founded in 1990
Further Info:
Jouni Laaksonen (ed.). Kainuun luontokohdeopas, Edita 2005
Driving Instructions:
The Lentua Nature Reserve is located some 9 km north from Kuhmo. Turn from Via Karelia (912) to Lentuakoskentie road (91283). After about 3km, turn right to Niska-ahontie road. It'll take you to the Nature Information Hut.
Photo: Ari Meriruoko
Kuhmo Visitor Centre Petola