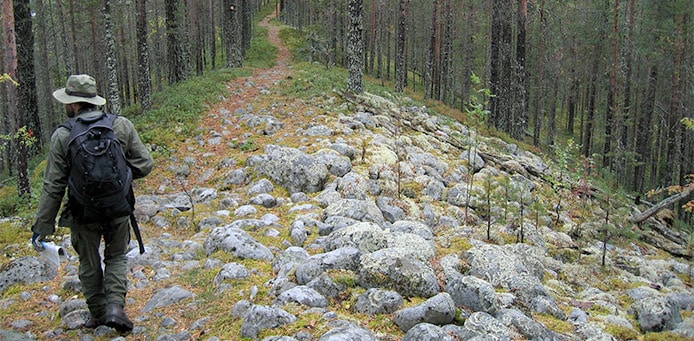 Pieni Ritojärvi Lake
Level: (*) one bear
Pieni Ritojärvi lake is a lovely destination for a day trip. The round trip trail, Ritojärven kierto (5.2 km), is a nice way to see all the prettiest sights on the area in one go. The round trip trail meanders through swamps, forests and ridges around the lake. There's a lean-to for taking a break with some snacks. The area is a great lingonberry picking site in the autumn.
The area is on the western side of Via Karelia (522). The only road leading there is the Kontiovaara road, which runs on top of a ridge and is a great sight in itself. Another lovely old ridge road runs on the Ritosärkkä ridge through the conservation area, and the old cart sheds by the road are worth seeing. There's also a memorial for the victims of a partisan strike in the Continuation War.
Pieni Ritojärvi Lake in a Nutshell
Lieksa, Northern Karelia
Area: 2 km2
Founded in 1955
Further Info:
www.luontoon.fi/pieniritojarvi
Driving Instructions:
From Via Karelia (522), take the Kontiovaarantie road on the south side of Lieksa. Drive for about 12 km, after which you can find the Pieni Ritojärvi parking area on the left side of the road. There's a sign pointing to the parking area on the Kontiovaarantie road. The parking area is the starting point for the trail around the Ritojärvi Lake.
Photo: Katri Suhonen
Koli Nature Centre Ukko
Tel. 0206 39 5654
ukko(at)metsa.fi