Kolvananuuro Nature Reserve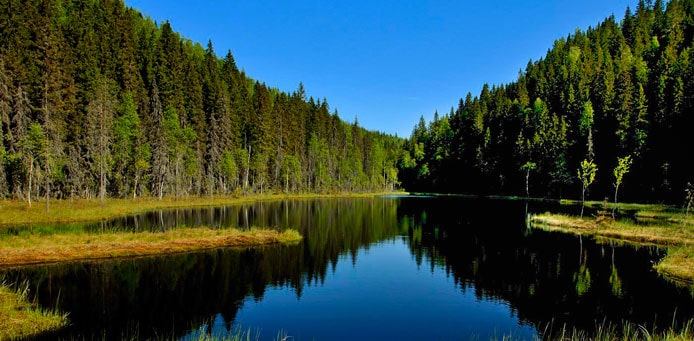 Kolvananuuro Nature Reserve
Level: (**) Two bears
Kolvananuuro is a magnificent gorge, millions of years old, between main road 6 from Joensuu to Kajaani and road 73 from Joensuu to Lieksa. The site is dramatically different from the surrounding terrain. A demanding hiking trail runs through craggy terrain – but the views are worth seeing. The trees are old, there's a lovely grove with ferns, and the ripple of a stream provides a pleasing soundtrack.
The Nature Reserve is 3km long, and more than 3km wide at its widest. The area has a marked Nature Trail and a campfire site. The trail is a demanding one, and passing it will take several hours, for the terrain is very difficult – yet rewarding. The UKK Hiking Trail travels through on its way from Joensuu to Koli.
Kolvananuuro in a Nutshell
Joensuu, Kontiolahti.
Area: 1.5km2
Founded in 1994
Driving instructions:
On the Joensuu–Eno road (73), there's a sign to Kolvananuuro at about 4km towards Kuusijärvi from Eno centre. Drive for 7km, and take a left turn. Continue for less than 2km to a parking area on the Eno side. You can also reach Kolvananuuro from main road 6.
Photo: Matti Pihlatie
Koli Nature Centre Ukko
Tel. 0206 39 5654
ukko(at)metsa.fi