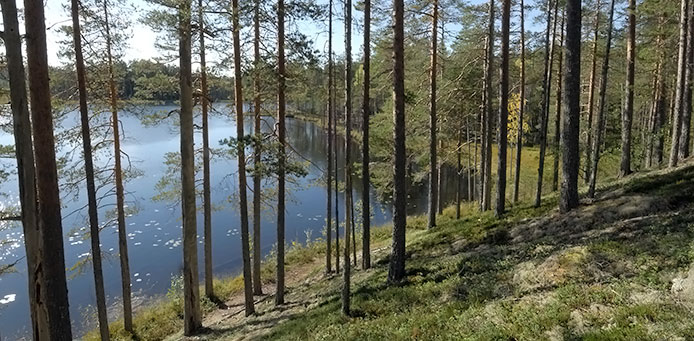 Ukonsärkkä
Level: ( * ) one bear
Ukonsärkkä in the very eastern part of Lieksa is perfect for a day trip. There's a lovely ridge and old forests. Ukonsärkkä is a treasure that needs to be found – a spot well worth visiting.
There's plenty of peace and quiet, even though you may meet other hikers at the lean-to in Ukonlampi. A short trail, Ukonpolku, crosses the area and introduces you to ridges with a view to ponds and swamps.
The area has been protected by Metsähallitus, and is now included in its old-growth forest reserves. The forest at the northern part of Ukonsärkkä has been thinned quite recently, and the area is surrounded by regular commercial forest lands.
Ukonsärkkä in a Nutshell
Lieksa, North Karelia
Area: 4 km2
Founded in 1968
Further Info:
Driving Instructions:
From Via Karelia (522) take a turn at 35 km south from Lieksa. Drive for 8 km and turn right to Kokkojärvi. Drive the Kokkojärventie road for about 8 km, then there's a sign to Ukonpolku on the right side of the road. Follow the sign and drive 200 m to the Ukonsärkkä parking area and info.
Photo: Heikki Räsänen
Koli Nature Centre Ukko
Tel. 0206 39 5654
ukko(at)metsa.fi