Änäkäinen Recreational Area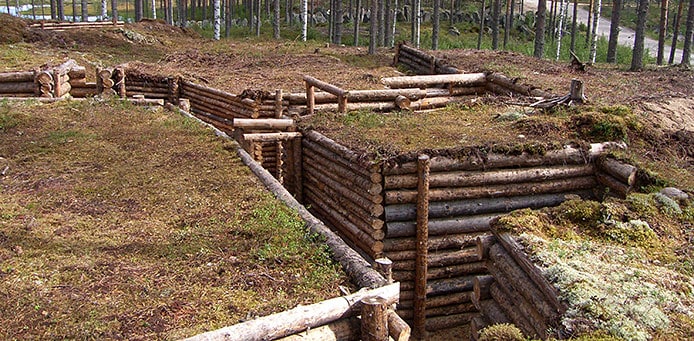 Änäkäinen Recreational Area
Level: (* *) two bears
The Änäkäinen area in Lieksa has recreational fishing grounds surrounded by forests. Trees are logged only moderately and respecting the recreational values.
The area is closely linked to the battles in the Winter War, and some Salpa Line fortifications were built here during the interim peace. When taking a break from fishing, you can therefore get acquainted to military history. The national frontier between Finland and Russia is only eight kilometres away. The Kivivaara road crossing the area was known as the Rukajärvi road during the Continuation War.
The compact Änäkäinen is perfect for a day trip, but you can also stay overnight in one of the lean-tos in the area. There are three trails introducing the local war history in the southern part of the area: Etulinjakierros (front line), Korsukierros (dugouts) and kivilouhoskierros (a quarry). In the north, you can walk around lakes Saarijärvi or Iso-Änäkäinen.
The Karhunpolku hiking route crosses the area. If you take the Karhunpolku trail in Änäkäinen toward the south, you can hike all the way to the Patvinsuo National Park. If you take the trail to the north, you end up in Teljo, on the Kuhmo border.
Änäkäinen in a Nutshell
Lieksa, North Karelia
Area: 2.8km2
Founded in 1987
Further Info:
Driving Instructions:
In the Nurmijärvi village on the Via Karelia (524), turn east to the Kivivaarantie road (5241) and continue for about 8 km. On the left, you can see the Änäkäinen Info. The area is accessible in the winter, thanks to the maintenance of the road passing through, all the way to the Saarijärvi hut and its parking area.
Photo: Reino Turunen
Koli Nature Centre Ukko
Tel. 0206 39 5654
ukko(at)metsa.fi