The Herajärvi Trail is a round-trip trail, starting from the peak of Ukko-Koli. The trail runs partly in the Koli National Park. The trail goes around lake Herajärvi, on the south side of Koli. Marked in blue, the trail is a demanding one because of great differences in height.
There are services available at both ends of the route. Ukko-Koli has a hotel, and in Kiviniemi, at the north-west corner of the route, there's a 19th century farm, now offering accommodation for tourists. They have a camping area, small sleeping cabins and a sauna. Please book in advance.
Other places for over-night stay include camping areas in Ylä-Murhi and Lakkala, Kiviniemi, a lean-to at the end of Herajärvi, Nevala traditional farm, Lapp-hut of Ryläys, camping area in Myllypuro. There are also cabins to rent en route.
Lovely vantage points include Kolinvaara, Sammakkovaara, observation tower in Ryläys, Ukko-Koli and Paha-Koli, Mäkrä, and Jauholanvaara.
The trail does not run in a primaeval forest. The forests are mainly ordinary mixed forests, especially on the south-eastern side of Herajärvi, which is not a part of the National Park. You'll pass some areas with tree saplings, and at times, the trail runs on a forest road, but not too frequently. The best attractions include the vantage points, rich cultural history, erratic boulders, and the great yield of mushrooms in the autumn.
Herajärvi is at its narrowest at Kiviniemi, and you'll cross the lake at Ahosaari on a bridge and by using a self-operated ferryboat.
Further info: www.koli.fi
Book by Jouni Laaksonen: Retkeilijän kansallispuistot, Edita 2011
Driving instructions: There is a sign to Ukko-Koli on main road 6. You can reach Kiviniemi from road 515, following the signs.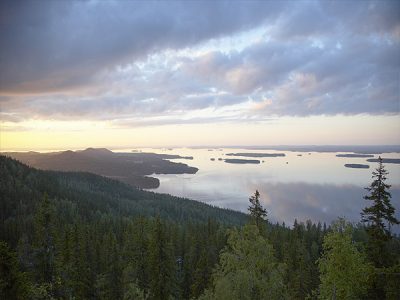 +358 206 39 5654