Jonkerinsalo Nature Reserve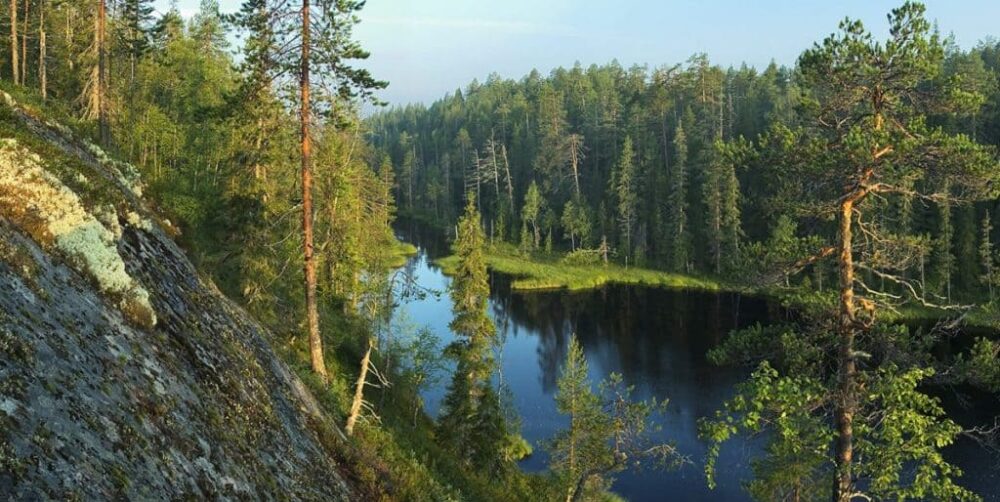 Jonkerinsalo Nature Reserve
Level: (* *) two bears
Jonkerinsalo Nature Reserve is in southern Kuhmo, on the western side of the canoeing route on the Jongunjoki river. The area is ruggedly beautiful, characterized by the regionally treasured ravine of Hiidenportti, where the Louhipuro stream runs between steep cliffs. There's a lean-to at the north end of the Hiidenportti gulley.
Louhipuro is not a typical stream. At the south end of the canyon, the trail – leading from the Kangasvaara parking area to Hiidenportti and further to Pullukanvaara on the western side of the area – crosses the stream, now a foaming torrent, on the Louhipuro bridge. Later, the stream first hides under a moss-covered layer, thick enough to carry a person, and then broadens into a pond-like body of water at the northern part of the ravine.
The undulating, protected forests around Hiidenportti are full of small ponds, streams and rivers.
If you stay on the trail, you're ok without a map and wearing sneakers. On the other hand, if you want to explore the great old forest a bit more, you'll need a topographic map, a compass and a pair of water-resistant boots.
Jonkerinsalo in a Nutshell
Kuhmo, Kainuu
Area: 13km2
Founded in 1991
Further info:
Jouni Laaksonen (ed.): Kainuun luontokohdeopas, Edita 2005
Driving instructions:
From Via Karelia (524), turn west between Jonkeri and Teljo. In the junction, there are signs to Jonkerinsalo and Louhipuron Hiidenportti. Drive the forest road for about 3 km to the Kangasvaara parking area. There's a lean-to nearby.
Petola Visitor Centre
Kuhmo