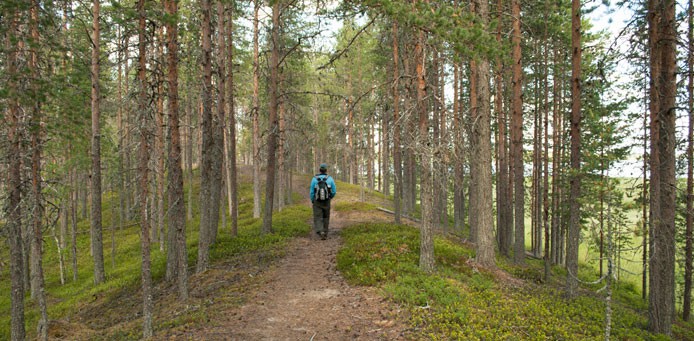 Kalmosärkkä
Level: (*) one bear
Kalmosärkkä in Suomussalmi, south-east of Juntusranta village, is a prehistorical settlement. Kalmosärkkä is protected by the Finnish Heritage Agency and maintained by Metsähallitus. The area is regarded as nationally valuable site.
Dominated by pine trees, Kalmosärkkä is a narrow sandbank, a little over one kilometre long. In the north, the sandbank divides in two. Kalmosärkkä has later been used as a temporary burial place, hence the name, where 'kalmo' means a 'dead body'.
The ancient settlement on Kalmosärkkä and the nearby Nuolisärkkä, Mikonsärkkä and Kellolaisten Tuli have been researched since the 1950's. The findings of Kalmosärkkä mark the different stages of human settlement and history of Juntusranta and the entire Kainuu. The sandbank has been inhabited for the entire prehistorical period, circa 6000–1300 BCE. The more recent findings are from the 16th and 18th centuries and from the Winter War.
Kalmosärkkä in a Nutshell
Suomussalmi, Kainuu
Further info:
Driving instructions:
On Via Karelia (843), drive north from Juntusranta village for about 2km and turn west on the Nuolentie road. Continue for about 5km to south. On the left side of the road, there's a parking area and an information board. The trail to Kalmosärkkä, marked in red, starts from the parking area.