Kaltimon kierto Round-Trip Trail and Patvinpolku Trail 80km
Kaltimon kierto Round-Trip Trail and Patvinpolku Trail 80km
Kaltimon kierto is a 25km round-trip trail in Eno, north of road 73 (Road:Uimaharjuntie). Via Kolvananuuro, the route is connected to Koli trail, and via Suppuralampi, the Patvinpolku Trail goes all the way to the Patvinsuo National Park via Uimaharju and Kivilahti.
The trail is demanding at times, because there are a lot of ascends. The trail is partly rocky and covered in long grass. You should pay attention to the blue signs, because you can easily get lost when crossing roads and on open logging areas. The trail climbs on many hills, and at times, you'll be 150m above lake Kaltimojärvi. The route is called "the route of seven hills".
The connecting trail to Kolvananuuro and the Koli trail starts from the Kaltimon Kierto trail, in the north-west end of lake Kuusijärvi. The Patvinpolku Trail starts slightly to east, by the Suppuralampi pond near the Suppuravaara hill.
There are two campfire sites by the Kaltimon kierto trail: a lean-to in Suppuralampi, where the Patvinpolku trail starts, and a campfire site in Loira, by the road between Sieravaara and Tannilanvaara, close to the starting point.
Where the Kaltimon kierto trail has grand landscapes, the Patvinpolku trail, marked in red and black, is a bit dull in comparison. Once it branches off, it climbs up to Suppuravaara, visits a campfire site in Venäjänjärvi, and comes up to the road between Eno and Uimaharju. The Pielinen water system will be crossed on the road, where there's a great opportunity to see the Koli hills.
The route passes Uimaharju on a pedestrian road, and runs on a logging area and in young forests to Kivilahti. En route, the trail passes guesthouse Kontiokievari. In Kivilahti, the route passes the village on a road. Next, you'll arrive to a lean-to in Tuomilampi, and soon you'll reach the shore or lake Koitere, where there's a campfire site. There's a ferry, tugged by a rope, over Hiienjoki river. From Koitere, the Patvinpolku trail follows the border of the National Park and joins the Park routes in the Pirskanlampi camping area, or at Lahnasuo parking area.
Further info:
Suomen retkeilyopas, Edita, Metsähallitus 2007
Driving instructions: Kaltimon Kierto Trail and Patvinpolku Trail start from a service station, Kaltimontupa on road 73. In Patvinsuo National Park, the Lahnasuo parking area is by road 5202.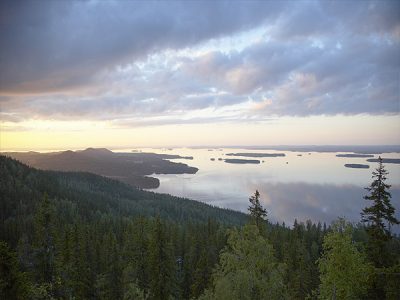 Kaltimontupa Oy, Joensuuntie, Eno, Finland