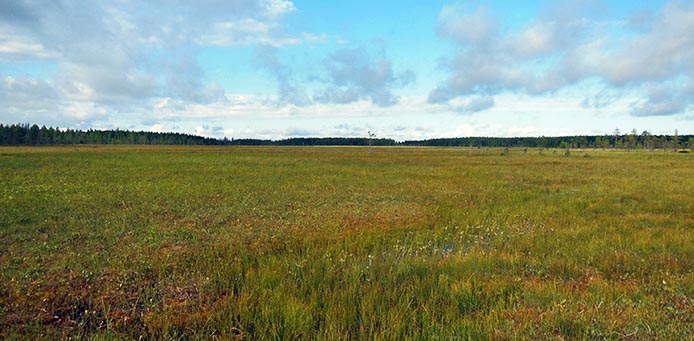 Murhisalo Nature Reserve
Level: (* * ) Two bears
Murhisalo has forever been the hunting and gathering grounds for Finland's only White Karelian villages, Kuivajärvi and Hietajärvi. There are still signs of hunting culture and ancient travelling routes, and old fishing saunas make the area a cultural historically valuable destination. Lake Murhijärvi provided all the fish for these villages.
Murhisalo Nature Reserve combines the Lososuo – Saarijärvi Mire Reserve and the surrounding old-growth forest reserves. In south, it meets beautiful sceneries of lakes Hietajärvi and Kuivajärvi.
Nature here is very diversified. There are old forests ranging from dry coniferous forests to lush groves and stream banks, and various mires from sting bogs to rich fens. The Nature Reserve is exceptional in Finland: the chain of lakes and their catchment area are almost all in their natural state.
About 4km from the village of Kuivajärvi you can find a parking area by the road, a starting point for a 9km Saarisuo Nature Trail around Kirnulampi pond and Saarisuo mire, marked in red. The round-trip trail goes past a lean-to next to Kirnulampi pond. Birdlife is diverse in the mires and bogs.
The Itäraja Hiking Route goes through Murhisalo from south to north. There are different trails in Murhisalon for the summer and winter routes.
Murhisalo in a Nutshell
Suomussalmi, Kainuu
Area: 65.5km2
Founded in 1988
Further info:
Jouni Laaksonen (ed.): Kainuun luontokohdeopas, Edita 2005
Driving instructions:
Road to Kuivajärvi (9124) turns east from Via Karelia (912) at Saarivaara.