Jämäsvaara Recreation Area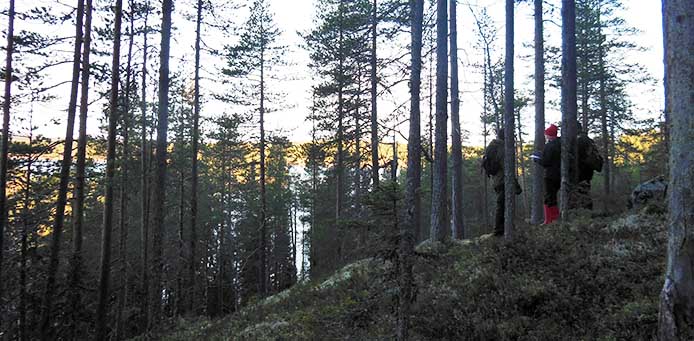 Jämäsvaara Recreation Area
Level (*) One bear
Almost the entire catchment area of Lake Jämäsjärvi at the centre of the Jämäsvaara area is in it's natural state; no logging or ditching. On the south-eastern shore, there's the steep Jämäsvaara with dense spruce forests. Due to abundance of decayed wood, many species of polypores and insects thrive there. In the forest, there are patches of marsh and fen. The area has many ponds and streams.
All these features make Jämäsvaara a great destination for enjoying the nature. The forests are dominated by spruce, but you can also find great old pines with thick bark, and moss covered fallen trunks. All campfire sites and lean-tos have great views to ponds or lakes. The sunny Lake Jämäsjärvi is starkly contrasted by the dark Jämäsvaara on the background.
Jämäsvaara has a vast network of hiking trails. You can enter via three parking areas with information boards; Loukkukangas in the north-east, Jämäsvaara in the east and Miettulantie in the north-west. Marked in orange, there are 15 kilometres of trails altogether. The wet parts are equipped with duckboards. None of the trails is a round-trip trail. For over-night stays, the area has an open wilderness hut, Jämäshovi.
Starting from the southern border of Kuhmo, the Petranpolku trail enters the Jämäsvaara area at Alanteensärkkä and travels through the area to the parking area at Miettulantie. This trail offers a good opportunity to see the entire area.
Jämäsvaara in a Nutshell
Kuhmo, Kainuu
Area: 27km2
Founded in 2000
Further info:
Jouni Laaksonen (ed.): Kainuun luontokohdeopas, Edita 2005.
Driving instructions:
From Kuhmo, take the Kuhmo – Nurmes road (75) and drive for about 15km. Then, turn right to the Jämäsvaarantie road. After 6km, you can find the Loukkukangas parking area, and the Jämäsvaara parking area is 7.5km from the junction. When the unpaved road is not roadworthy in the spring, the road will be blocked.
Photo: Eeva Pulkkinen
Kuhmo Visitor Centre Petola
+358 40 8 25 60 60