Peurajärvi Recreational Area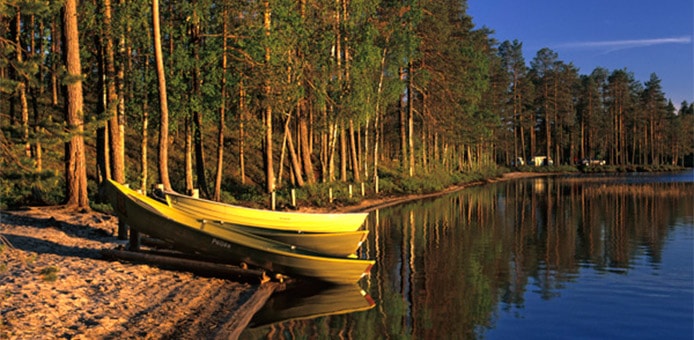 Peurajärvi Recreational Area
Level: (* *) two bears
Peurajärvi is the go-to place for families. The area is small and quiet enough for a day-trip, but there's enough to see and do to spend a weekend: hiking, swimming, fishing and berry picking.
The Mäntyjärvi lean-to and a hut near Iso-Valkeinen are available for overnight stays, and you can also put up a tent around these locations. There are three areas for caravan campers. A couple of cabins are available for renting.
There are two easy round-trip trails around the lakes. You can see pine forests following the alternating shapes of the ridges. Crystal-clear lakes, small ponds and meandering rivers are available for fishing.
On the eastern side of lake Peurajärvi, there's an old-growth forest reserve of Paistinvaara. Amongst it's ancient trees, theres an interesting sight: a massive erratic boulder, Kärnänkivi, stands on its narrow tip, in defiance of gravity. A trail runs past the boulder from lake Peurajärvi through lake Mujejärvi – the "Saramon jotos" hiking trail ends in the Saramo village in Nurmes. In the north-western corner of there area, there's a hiking trail leading to the Hiidenportti National Park.
The Peurajärvi area is commercial forest instead of a nature reserve. However, recreational values are respected in forest management.
Peurajärvi in a Nutshell:
Nurmes, North Karelia
Area: 10km2
Further info:
Driving instructions:
From Nurmes, take the Nurmes – Kuhmo road (75) and drive toward Kuhmo for 28 km. Follow the signs and turn west to Peurajärvi. Drive for 14 km and turn right to Iso-Valkeinen's parking area. Other parking spots can be found at the north side of the Hakolampi pond, near the Mäntyjärvi lean-to or beside the road at Mäntyjokisuu.