Elimyssalo Nature Reserve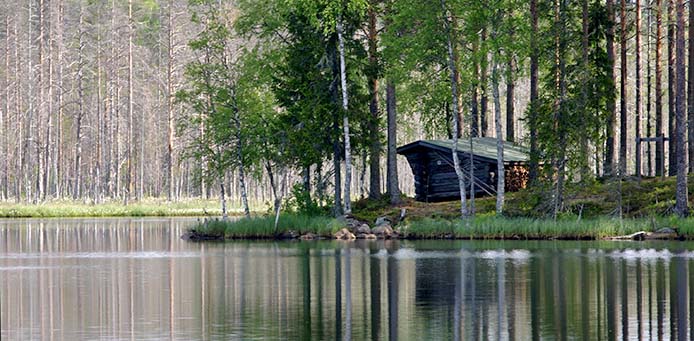 Elimyssalo Nature Reserve
Level: ( * * ) Two bears
Close to the national border, east of Kuhmo, Elimyssalo is the home of the second coming of wild forest raindeer. The species had been hunted to extinction in Finland by the mid 19th century. In the end of 1960's, Martti Montonen, found some wild forest reindeer in Elimyssalo, and observed and photographed them for ten years. As the result, he published a book, "Suomen peura" (Wild reindeer in Finland) in 1974. The book had a profound effect on how the wild reindeer population developed in Finland and on the decision to protect Elimyssalo.
Elimyssalo Nature Reserve and the conjoining old-growth forest reserves are the largest nature reserve in Kainuu. The Natura area in Hossa is larger in size, but the hiking area in its core has forests that are used commercially.
The Elimyssalo area has protected old-growth forests and mire nature. Large parts of the forest are over 200 years old. The forests are dominated by spruce. The mires are string bogs in their natural state. The most notable lakes are Elimysjärvi and Saari-Kiekki. There are also many small ponds in the area.
Besides forests, Elimyssalo has protected some cultural historical sites. Two wilderness farms of Levävaara and Latvavaara remind visitors of a time, when reaching the closest road meant travelling dozens of kilometres by foot and boat. The tenant farms are still there as examples of life once led in Kainuu.
The Elimyssalo area is still important for the wild forest raindeer. Other examples of wildlife include bears, volves, volverines, lynxes, otters and other species from the weasel family. Another rare inhabitant is the Siberian flying squirrel. Old forests are the home for many valuable bird species.
Elimyssalo is a part of the Finnish-Russian Friendship Nature Reserve, consisting of five nature reserves mainly on the grounds of Kuhmo municipality.
The famous UKK hiking trail runs through Elimyssalo. The trail enters Levävaara in the south and runs by lake Elimysjärvi and Juntinsalo to north-west. There's also another hiking trail, a part of which is a round-trip trail, around lake Elimysjärvi. All routes start and end on the same trail, starting from Viiksimo parking area in the north and Saari-Kiekki in the south.
Elimyssalo in a Nutshell
Kuhmo, Kainuu
Area: 73km2
Founded in 1990
Further Info:
Photo: Ari Meriruoko