Kitee Wilderness Trail 4.7km
Kitee Wilderness Trail 4.7km
Kitee Wilderness Trail runs near lake Orivesi, forming two round-trip trails. The trail introduces you to forest nature, forestry, game management, and hunting traditions.
The trail encompasses two round-trips: 2.2km around Parppeinlampi in the west, and the Hietaniemi trail, 2.3km in the east.
Starting first toward Parppeinlampi is recommended. In the beginning, there's dry heath land, where there's a game feeding shed, a feed storage, and a small "game field", that is a patch of land where crops suitable for feeding game are cultivated. Soon after, the trail goes up to a ridge between Parppeinlampi pond and lake Orivesi. On top of the ridge, by the trail, there's a grove-like hollow, offering a living environment for partridge, for example. By the fishnet shed, the trail makes a sudden turn back and starts following the shoreline of lake Orivesi. The lush marshland by the lake has duckboards for keeping your feet dry.
The Parppeinlampi trail ends on a narrow road. On the left, there's a parking area of the Hietaniemi beach.
The Hietaniemi trail will start right across the road, past the beach. There's a campfire site and changing cabins. Right behind them, the trail turns toward Hietaniemi. On the peak, there's a roomy Lapp-hut. After a pine heath, the trail descends to a marshland, by the cape. The route is covered with duckboards. Next, the trail goes up to a heath again. There are information boards about game management and hunting methods by the trail.
The end and starting point to the trail is the "base camp" near the main gate. There's a dining shelter for 50 people. The trail is clearly marked with wooden signs. There are many information boards on the route.
Further info: www.kitee.fi
Hiking guide in Finnish: Pohjois-Karjalan vaellusreittiopas, Edita 2004
Driving directions: From main road 6, turn to road 482 to Rääkkylä, at the Tolosenmäki junction. Continue for 3.1km, until you see a sign to the left "Kiteen erä- ja riistapolku" (Road: Anttilantie). Drive for 400m, there's a sign to the trail on the left. Drive for 800m, where you can see the gate to the trail and a parking area.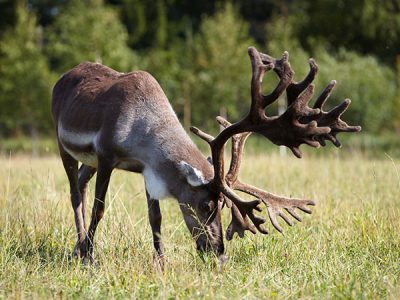 Anttilantie parking area
Kitee